Social Retail Connector Management Platform
Reach your customers when they're in or around your physical location with Social Retail's proximity-based bluetooth connector platform.
UNLIMITED CONTENT AND TARGETING
Upload unlimited content and schedule campaigns through our simple, drag-&-drop interface.
Schedule campaigns days, weeks and months in advance.
And do it all remotely, from just one computer.
Our connectors are compatible with:
PROMOTE PRODUCTS AND TIME-SENSITIVE OFFERS EASILY
Broadcast unlimited campaigns and send time-sensitive offers to attract nearby foot-traffic to your store.
Users will receive your content on one of the participating Social Network Retail applications.
Bring in the local foot traffic and standout from the competition.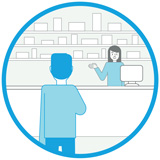 INCREASE FOOT TRAFFIC AND ATTRACT NEW CUSTOMERS
More customers inside your stores means more sales.
With certain segments this is a highly effective targeting tactic. Fine tune your campaign effectiveness by tracking metrics such as sent, opens, clicks and signups.