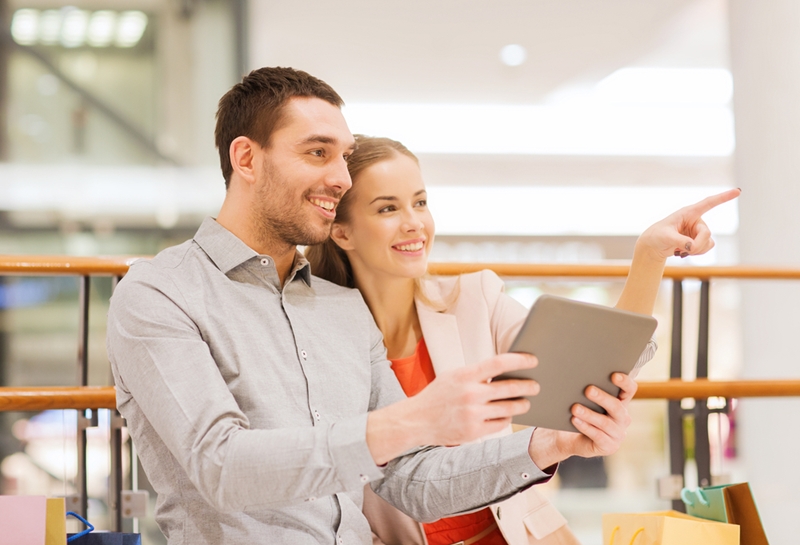 The Internet is fast on its way to becoming the largest single shopping mall in the world. According to data collected by iAcquire, annual online shopping revenues are expected to exceed $370 billion by 2017. It's no surprise then that traditional retailers and shopping malls are beginning to feel the pressure of increased competition.
Beacons, low-cost radio transmitters that can communicate with nearby smartphones, are an apt solution for shopping malls in need of reliable solutions to modern marketing pressures. That's why mall operator Simon Property Group has already deployed the devices in hundreds of locations, according to RFID Journal. The technology makes it a breeze to send discounts, notifications and coupons directly to the user without having to clog up foot traffic with kiosks and booths. In addition, the inclusion of beacons developed by Digital Social Retail into the shopping experience can help malls address multiple shortcomings that encourage potential customers to shop from home.
Increased competition puts pressure on mall retailers to create fresh experiences
One reason that shopping malls have slipped in popularity is because the experience of visiting a mall has lost much of its luster. When entertaining YouTube videos and messenger apps are just a tap or two away, customers are far less motivated to make purchases in person when they can do so online. In fact, 80 percent of customers responding to a survey performed by the University of Pennsylvania complained that shopping malls visits lacked excitement.
Beacon technology can breathe new life into shopping mall visits by making them considerably more interactive. Customers are more likely to explore the mall at a comfortable pace and take in all the shopping opportunities available if they receive promotions and offers as they stroll. This approach has demonstrated so much potential that even entire streets have been turned into interconnected, interactive shopping experiences with the help of beacons. The Ma Rue Connecté initiative in Paris, for example, aims to turn Rue des Martyrs in the Lorette Quarter into the city's most innovative shopping experience. This dynamic approach maximizes the value of beacons for drawing bored customers back into the shopping mall.
Proximity-based marketing brings the online experience to life
Beacons allow shopping malls to offer many of the same conveniences that were once unique to online shopping, said Re/code. For example, many online retailers cross-market items by suggesting items based on what the customer has previously purchased. A beacon-powered shopping mall mobile app could perform similar functions, providing details on where similar items are sold at a lower price at another store in the mall. By intriguing online shoppers with the digital conveniences they are used to, beacons encourage retail customers to keep coming back to brick and mortar malls.
Recommendations and coupons can help to evenly distribute foot traffic
Consumers value variety, but the layout of certain shopping malls makes it difficult for visitors to get a sense of every store in the building. As a result, disgruntled visitors head home to shop online, assuming the mall has minimal options, and storefronts lose out on possible revenue streams.
"Beacons allow malls to offer the same conveniences as online shopping."
Beacons can address this phenomenon by pinging mall visitors about stores they haven't visited yet or directing them toward a part of the mall that they traditionally avoid. By offering digital coupons to the new specialty boutique in a major department store, for example, a smaller business can piggy-back off the name recognition of a larger one.
Adopting a robust Content Management System along with beacon technology will greatly simplify the logistics of this effort. The end result is greater overall earnings for malls, as well as more evenly distributed revenues across the board. Beacon technology should not be overlooked when competition ramps up and retailers are in need of a hook to draw in new customers and re-engage loyal return shoppers.